Wednesday, 26 March 2014 13:37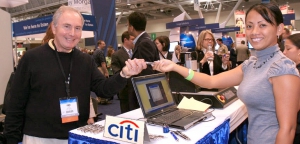 Expo and Event Services Set yourself apart with promotional items – custom engraved – at your event. You exhibit at an event or expo. People stop by your booth and you have an opportunity to connect and create name recognition for what you do. Custom Engraving's unique, experienced team attends events with you, producing customized take-aways, with your logo and message. We know that after a show, people get home, go through their bag of chachkies, and toss most of it. Cheapie give aways rarely make it back to the office, but personalized items, like a nice pen with each attendee's name engraved on it, can keep your company in the mind of that prospect for months to come. That's the underlying concept that drives our Events Services team.

Engraving – Pens, mugs, and an array of promotional items.
Embossing – Portfolios, folders and leather wear.
Read more...