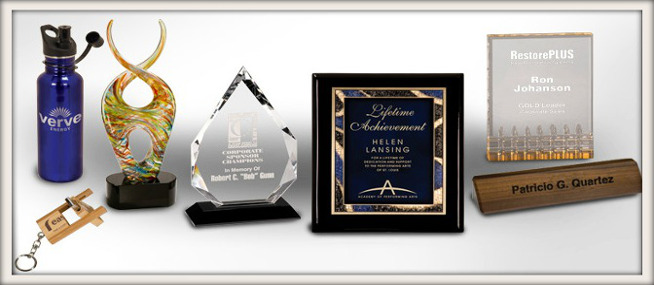 High quality engraved corporate awards of excellence, employee awards, executive gifts, incentives gifts and promotions at competitive prices. Trophies And Awards that suit every corporate awards needs.
7 1/2 inch Contemporary Glass Full Border Award
MORE DETAILS
14 x 14 Rosewood Piano Finish Maltese Cross Plaque
MORE DETAILS
Blue with Silver Trim Laserable Pen with Stylus
MORE DETAILS
9 x 12 Rosewood Piano Finish Floating Acrylic Plaque
MORE DETAILS
4 x 7 Green Marbleized Acrylic with 5 inch Base
MORE DETAILS
8 x 10 Gold Flake Acrylic Art Plaque with Easel
MORE DETAILS
8 1/2 inch Diamond Prestige Acrylic with Rosewood Piano..
MORE DETAILS