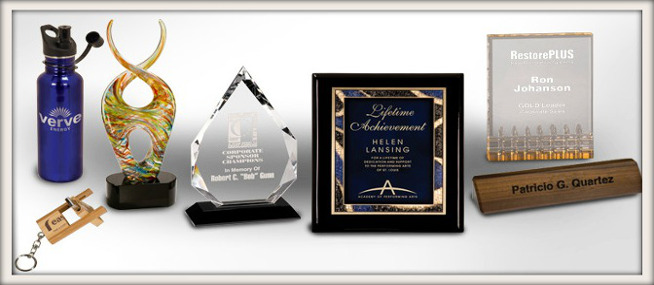 High quality engraved corporate awards of excellence, employee awards, executive gifts, incentives gifts and promotions at competitive prices. Trophies And Awards that suit every corporate awards needs.
3/4 x 1 1/2 x 1/4 4GB Red/Silver Metal USB Flash Drive with..
MORE DETAILS
8 3/4 inch Crystal Frosted Star Column on Black Pedestal..
MORE DETAILS
9 1/2 inch Diamond Prestige Glass with Rosewood Piano..
MORE DETAILS
6 inch Red Marble Rounded Shooting Star Acrylic
MORE DETAILS
3 1/2 inch Black 9 LED Laserable Flashlight with Strap
MORE DETAILS
3 1/8 inch Wooden Laserable Rounded Corner Rectangle..
MORE DETAILS
12.8 oz Bamboo Laserable Stainless Steel Travel Mug without..
MORE DETAILS
12 inch Silver Completed Metal Cup Trophy on Plastic Base
MORE DETAILS
8 x 10 Gold Flake Acrylic Art Plaque with Easel
MORE DETAILS